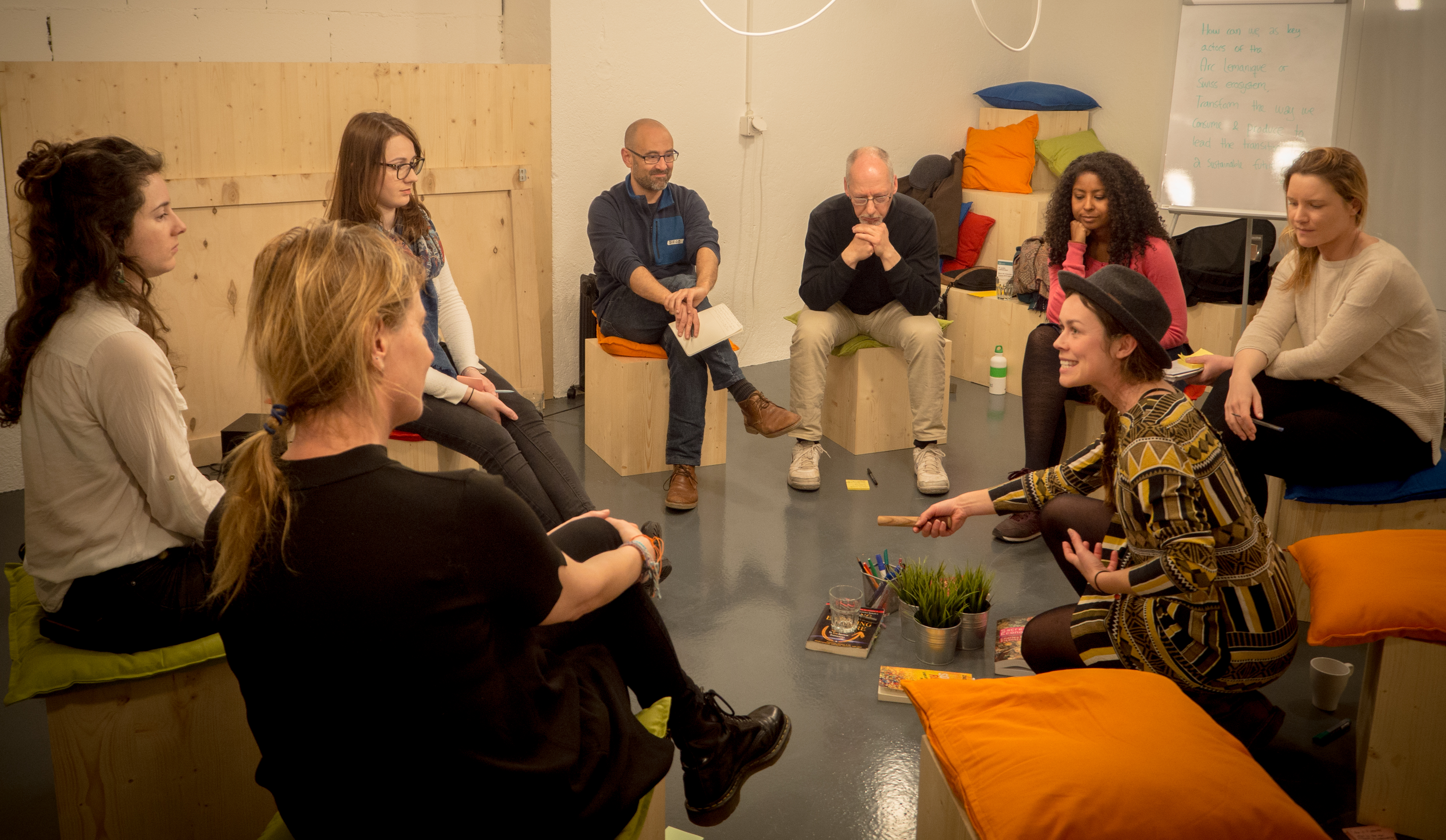 Dialogue Evening on the Future of our Democracy
READ MORE
---
Problem We Are Trying to Solve
We live in a time of rapid development and complex social and environmental challenges, as defined in the 17 Sustainable Development Goals (SDGs) of Agenda 2030. For people, it is difficult to keep track of this complexity and not to fall for simplified solutions of the problem. The consequences of this are not only hardened fronts of different opinions and a loss of confidence in our institutions, political actors and fellow human beings, it also makes people resigned to any optimism about the future.
In these times, our traditional democratic opportunities for participation often reach their limits. Although more and more participatory structures exist in municipalities, these are often not used or they do not bring the desired change for a more shared responsibility about the future of a community. We need other forms of coming together - Dialogue offers a possibility here: We bring together people who have an interest and curiosity for this topic and who already took action towards the future of democracy.
---
How We Are Going To Do It
Using Dialogue as a method of social conversation, we promote a new and more direct discourse within our Swiss democratic system. The vision of the Dialogue Method is to empower an active population and further develop our political commitment. During the Dialogue, the participants experience a guided process which enables them to encounter the topic of the future of democracy and promotes the associated learning and reflection on a personal level.
In addition, the Dialogue helps to open up new perspectives and solutions on the topic in which the collective intelligence and perception of the group is opened up. We believe that the ability to engage in a real Dialogue that has the power to involve all stakeholders is a central and important element in developing our scope for action for the future of our democratic system.
---
Who Benefits
We start with a first group of stakeholders that care deeply about the topic. These are people and groups that hold a vision or an approach of how our democratic system could develop to better face the complex challenges of our times. A funding of 2'500 CHF would allow us to organise a first well prepared and professionally held Dialog that includes between 15 to 20 people. Under our already confirmed guests are municipality mayors, political participation activists, democracy theory students and other interested persons from different parts of Switzerland. After this first event we want to hold many more Dialogues in municipalities and local communities all over Switzerland. Ideally, the targeted stakeholders bring their experience from this Dialog Evening back home to their to share their insights and initiate further Dialogues that hold the potential for new practices and formats of participation. collaboratio helvetica is eager and ready to support these stakeholders in their endeavours.
---
Long Term Impact
A single Dialogue is only the start of an actual change. Once we gathered active stakeholders on the topic we might discover new aspects or so far unknown root problems around our current democratic system. This first Dialogue should also be the starting point for a serie of Dialogues to happen in very different settings: villages, cities, schools and universities. We are already in discussion with several municipalities from all over Switzerland (Glaurs, Vaud, Lucerne, Bern and Zurich), but the potential for Dialogues in Switzerland is much bigger. We are convinced that from a common understanding arises a shared sense of responsibility and from there actions towards a future that is held and shaped together is possible. This project could develop into an inspirational, widely used form of democratic participation and in the long run potentially also decision-making.
---
What We Need To Do
We don't have all the answers of how the future should look like, yet on the one hand we sense that quality conversations are needed and on the other hand we know how to create the conditions for such conversations to happen. We want to bring people together to create our common future, one step at a time.
---