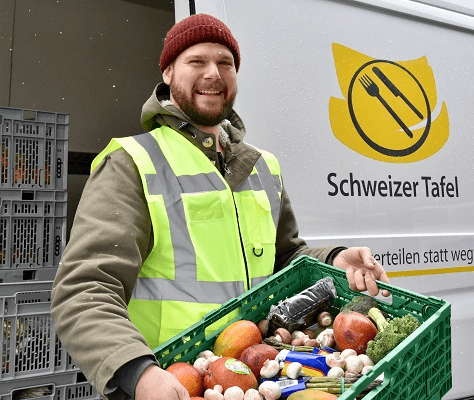 On Thursday, November 21, 2019, the 16th Soup Day of the Schweizer Tafel takes place. With the soup day, the Swiss Tafel collects food for people in need and draws attention to poverty in Switzerland. At 18 locations, renowned chefs will swing the wooden spoon and celebrity personalities will be serving soup. Those who enjoy a soup donate in favor of the Swiss Tafel.
READ MORE
---
Problem We Are Trying to Solve
Poverty is a reality in wealthy Switzerland. Over 15% of the population are at risk of poverty, 8.2% even live below the subsistence level, and the trend is rising. Through its work the Schweizer Tafel makes an important contribution to alleviating poverty in Switzerland.
---
How We Are Going To Do It
Every day, the foundation collects around 16 tonnes of surplus, impeccable food in the retail trade and distributes the goods free of charge to around 500 social institutions for the benefit of those in need. The logistics to accomplish this task costs money and is complicated. Every day we travel with our 36 refrigerated vehicles in 12 Swiss regions. In addition to around a dozen employees, we have a large number of volunteers, civil service workers and people from re-integration projects. In addition, we are committed to the integration of people into the primary job market. With the Soup Day we collect donations needed for our work to help people in need.
Who benefits from the campaign?
---
Who Benefits
The Swiss Tafel supplies around 500 social institutions, such as homeless shelters, street kitchens and dispensaries for food. For people affected by poverty, this means getting a hot meal or relieving their tight household budget.
---
Long Term Impact
Donations to the Swiss Tafel are worthwhile. We multiply each donated franc to around 18 francs. With just one franc, we can give people in need two kilos of food. In addition to poverty reduction, we make an important contribution to food waste. Through our work, we save four thousand tons of food every year from destruction.
---
What We Need To Do
We collect 16 tons of food daily and distribute it to 500 social institutions. This huge logistic effort costs. We are therefore urgently dependent on donations. The recipe for the soup day is simple: at 18 locations, renowned chefs swing the wooden spoon, and celebrity personalities serve the hot soup. Enjoy a delicious soup on the 21st of November. You will find us at these locations:

https://www.schweizertafel.ch/de/suppentag/suppentag-2019/


Donate locally for the benefit of the Schweizer Tafel or online here. With just three clicks you can show solidarity with people in need.
---
UN Sustainability Goals Supported