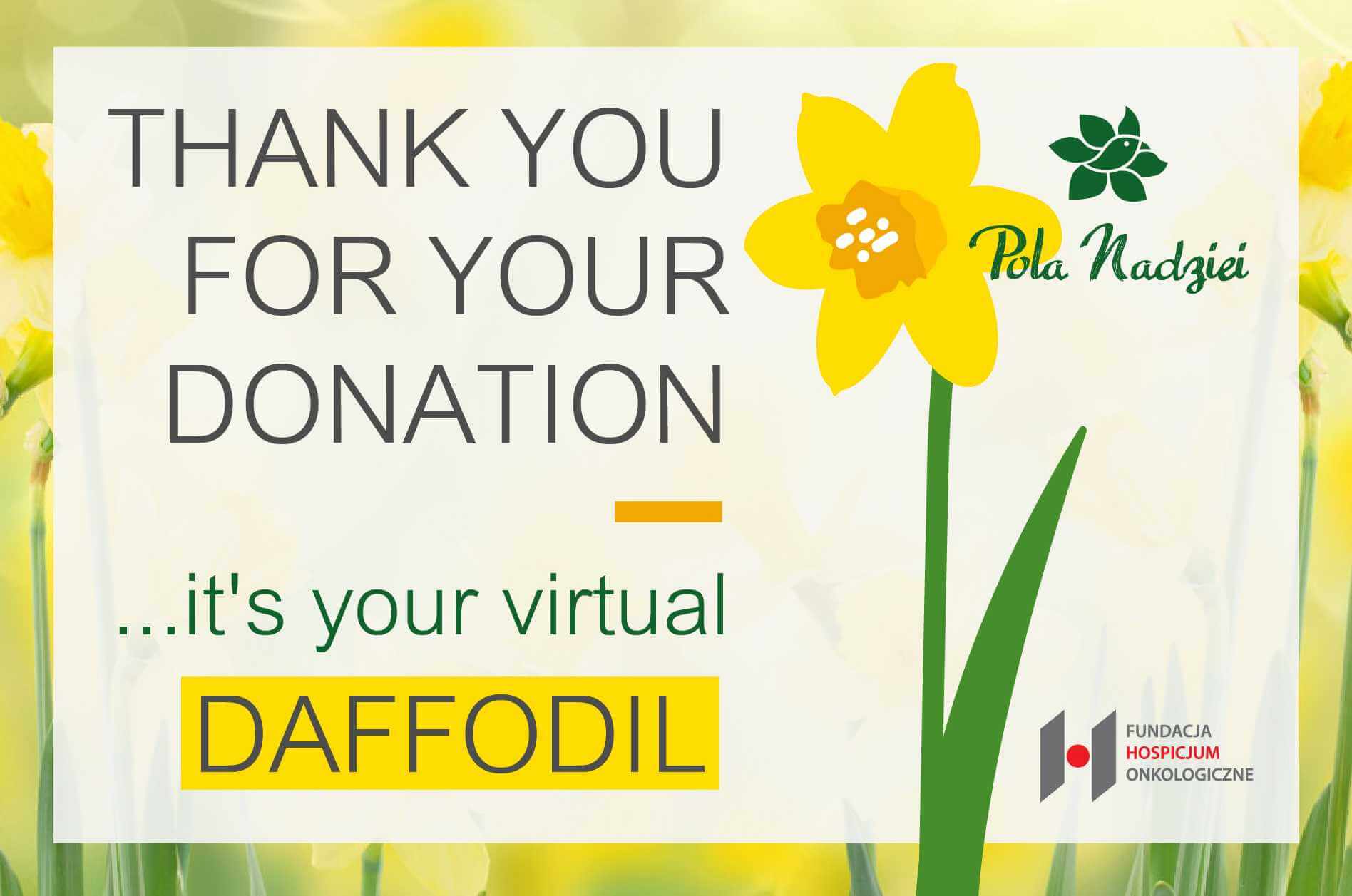 Fields of Hope is an international program implemented by Hospice and their friends. It's task is to promote among children and young people the idea of providing selfless help, as well as to raise money for most nesecarry needs. The symbol of the program is a daffodil. At the beginning of autumn, the local community (schools, kindergartens, local authorities, and individual donors) collect and plant daffodils. When the flowers bloom in spring, they are handed out in the street collections.
Pola Nadziei to miedzynarodowy program realizowany przez Hospicjum i ich przyjaciól. Jego zadaniem jest promowanie wsród dzieci i mlodziezy idei zapewnienia bezinteresownej pomocy, a takze zebranie pieniedzy na wiekszosc potrzeb. Symbolem programu jest zonkil. Na poczatku jesieni lokalna spolecznosc (szkoly, przedszkola, wladze lokalne i poszczególni darczyncy) zbiera i sadzi zonkile. Kiedy kwiaty kwitna na wiosne, sa rozdawane w zbiórkach ulicznych.
READ MORE
---
Problem We Are Trying to Solve
Due to current situation, this year, the hospice is unable to hand out flowers in street collections, so we encourage you to buy a virtual daffodil to meet patients' most important needs and to promote ' Fields of Hope' action.
We all need Hope at those hard times! Share it with others!
Ze wzgledu na obecna sytuacje, w tym roku hospicjum nie jest w stanie rozdawac kwiatów w zbiorkach ulicznych, zatem zachecamy do zakupu wirtualnego zonkila, aby zapewnic najwa?niejsze potrzeby pacjentow hospicjum, a takze promowac akcje "Pola Nadziei".
Wszyscy potrzebujemy nadziei w tych trudnych czasach! Podziel si? ni? z innymi!
---
How We Are Going To Do It
Buy a virtual daffodil and support the Hospice in these hard times!
Kup wirtualnego zonkila i wspomóz Hospicjum w tych trudnych czasach..
---
Who Benefits
With support from Credit Suisse, the hospice will be able to secure access of the on premise hospice to:
- good quality food for patients;
- undisturbed service of medical waste utilization;
- undisturbed service of laundry services;
- good quality specialized cleaning services.
Dzieki wsparciu Credit Suisse, hospicjum bedzie moglo zapewnic:
- dobrej jakosci zywnosc dla pacjentów;
- obsluga utylizacyjnych odpadów medycznych;
- uslugi pralnicze;
- dobrej jakosci specjalistyczne uslugi sprzatania.
---
Long Term Impact
Fields of Hope goals:
- education on methods of working with terminally ill people and with mourners,
- promoting altruistic and open to the other attitudes in the society,
- encouraging young people to engage in practical help for suffering people,
- acquiring the funds needed for the ongoing operation of the Oncology Hospice Foundation.
Cele Pól nadziei:
- edukacja na temat metod pracy z osobami nieuleczalnie chorymi i z zalobnikami,
- promowanie altruistycznych i otwartych postaw w spoleczenstwie,
- zachecanie mlodych ludzi do praktycznej pomocy dla osób cierpiacych,
- pozyskanie srodków potrzebnych na biezaca dzialalnosc Fundacji Hospicjum Onkologicznego.
---
What We Need To Do
All we need to do is buy a virtual daffodil and support the Hospice..

Przekazac fundusze na wirtualnego zonkila i w ten sposób wesprzez Hospicjum..
---