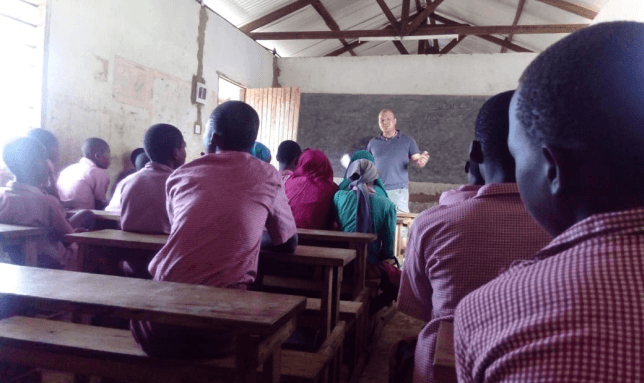 Bildung ist die Basis zur gesellschaftlichen Entwicklung überall in dieser Welt. Befähigung zur Bildung bedeutet Hilfe zur Selbsthilfe in Gesellschaftsentwicklung. Wir von Way to Africa setzen und gemeinsam mit unserer Volontärin, Nadine genau hierfür ein - sie wird Projekte in Kenya und Uganda umsetzen.
READ MORE
---
Problem We Are Trying to Solve
Wir wollen benachteiligte Regionen in Afrika mit Waren, Dienstleistung, Knowhow und Infrastrukturen unterstützen um deren Engagement in der gesellschaftlichen Entwicklung zu stärken.
---
How We Are Going To Do It
Mit deiner Spende unterstützt Du direkt ein Projekt unserer Volontärin vor Ort. Nadine wird während ihrer 12-Wöchigen Tätigkeit in Kenya und Uganda zum Ausbau der Schulinfrastrukturen, den Sozialeinrichtungen, der Bildungsmittel und damit den Zukunftsperspektiven junger Familien beitragen. Nadine wird sich als Lehrerin, Kinderbetreuerin, Bauhelferin, Coach und als Botschafterin vor Ort engagieren.
---
Who Benefits
Junge Familien in Kenya und Uganda.
---
Long Term Impact
Durch Bildung wird die gesellschaftliche Entwicklung gestärkt und die Unabhängigkeit gefördert.
---
What We Need To Do
Deine Spende dient dazu, Baumaterialien, Bildungsmittel und Infrastrukturen für die Schulen oder Mittel für Aktivitäten der Kinder (z.B. Spielwaren, Sportgeräte, Ausflugsmöglichkeiten) zu beschaffen.

Jetzt spenden und direkte Hilfe leisten!
---