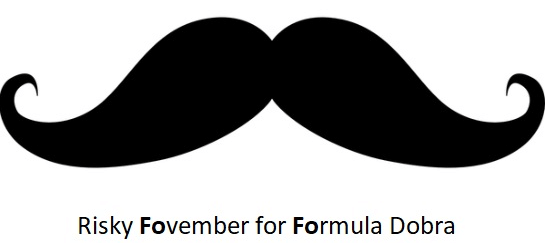 Grow yourself. A solution that's sitting right under your nose. Grow a Moustache this Fovember to raise funds for Formula Dobra! We will open a separate campaign under this project for each contestant, where we will put before and after pictures! The winner- who raises the most funds, will be awarded during the CRO Town Hall in December.
READ MORE
---
Problem We Are Trying to Solve
We would like to raise funds to help Formula Dobra- Dolnoslaskie Childrens Hospice. The funds that we aim to raise will help the children's hospice in so many good ways… we will be able to buy 25 breathing monitors, 50 tracheostomy tubes or 70 hours of rehabilitation!
---
How We Are Going To Do It
We will grow moustache in November- to raise charity awarness, and to show, that we care.
---
Who Benefits
Stowarzyszenie Medyczne Hospicjum dla Dzieci Dolnego Slaska/ Association Hospice for Children from Lower Silesia: "Formula Dobra" is a home hospice providing holistic care to incurably - terminally ill children. Their team consists of over 50 people, including among others medical staff, psychologists, physiotherapists, all of them having many years of experience in caring for hospice patients as well as their parents and siblings.
---
Long Term Impact
Hospice vision is to create a model hospice for children. They care for creating a place, in which each parent in need will get support. A place, in which parents of an ill child, at every stage of his or her life will be assisted. A place that will take care of each member of an ill child family, his or her parents, siblings, grandparents, etc. Hospice mission is to provide comprehensive assistance to incurably ill children and their families residing in the area of Lower Silesian voivodship. They fulfil their goal through activities that are free of charge and directed to public benefit.
---
What We Need To Do
We just need to grow the roof under our noses for 1 month 1st-30th Novemer 2019 or show our support for those who decided to take up the challange by donating money !
---
Target: PLN 5'000
Raised: PLN 0
---
Fund Project
Start a Campaign
Champions
Supporters
No one has contributed to this campaign yet.
Be the first to support Agnieszka and fund the campaign!